Current Book Selection and Meeting Time
NAMI Hunterdon Book Club
Date: Thursday, August 22, 2019
Location:  Meets at Panera in Flemington:  325 US-202, Flemington, NJ 08822
Reading selection: JUST MERCY A Story of Justice and Redemption By Bryan Stevenson p. 336
For more info: contact Louise Hartman at louise.hartman@comcast.net.
All are welcome – no reservation is necessary – come as you are.  For further information Contact Louise Hartman at 609-468-6036 or louise.hartman@comcast.net
Our book discussions are gentle and kind and explore the problems and possibilities of living with mental illness. We use the lens of the authors whose books we read to inform our discussions. But our group enthusiastically embraces digressions and invites participants to bring their own personal stories into our forum (if they so choose). And sometimes it's not always possible for members to read the book prior to our meetings. That's fine, we're not sticklers on that front (or any front for that matter); we just encourage the free flow of compassion.
We look forward to seeing you!
Current selection: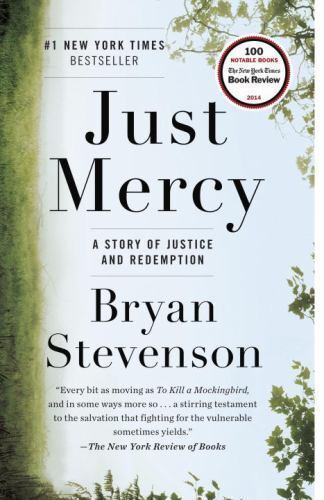 A note about our next selection:
My niece struggles with a serious mental illness and an addiction that has overwhelmed her life and her loving family whose anguish is unbearable to see. She has been hospitalized so many times we have all lost count and the story of her recovery and relapse is a repeating tragedy. She needs long term care and there is none. Her therapists, doctors, caseworkers, and parole officers agree on one harsh truth. She will either die on the street or be incarcerated in jail. No other alternatives are offered or possible from a failing system.
I am telling this story because so many of us have confronted a system that seems stacked against us and which seemingly operates contrary to our best interests and those we love. It feels so unjust and our helplessness so unfair.
This month's primary selection, Just Mercy, takes us into a world where justice has been systematically denied to a people because of stigma – in this case it is racial stigma. Bryan Stevenson, the author and a man of great intelligence and compassion, tells the story of his fight for justice. I believe his story can help all of us find common ground and our common humanity while we seek social justice for our loved ones and ourselves and the strangers who we do not know but need our care and concern, too.
I am looking forward to hearing if Just Mercy alters your perspective on redressing social injustice and creating a better world. (Okay, I admit, perhaps not exactly lightweight summer reading but a break between sessions with your latest nordic noir).
JUST MERCY
A Story of Justice and Redemption
By Bryan Stevenson
336 pp. Spiegel & Grau. $28.